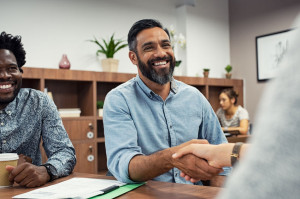 When it comes to business insurance, there's a lot to know. Just like your business itself, there are a lot of pieces. That's why it pays to partner with an expert insurance firm to answer your questions and make sure all your insurance coverage needs are met.
Here are some of the most common business insurance questions to help get you started on what you should know.
Is there a difference between hired and non-owned auto liability insurance? The short answer is yes. With certain exceptions, the term "hired autos" refers to autos the named insured leases, hires, rents, or borrows. The term does not include any auto the named insured leases, hires, rents, or borrows from any of its employees, partners, limited liability members, or members of their households. As respects the motor carrier, the exception applies to private passenger type autos only. By contrast, the term "non-owned auto" applies to vehicles owned by employees and used for company business. It applies only if such autos are private passenger vehicles.
What is the difference between general liability and professional liability? General liability protects against any financial loss as the result of bodily injury, property damage, medical expenses, libel, slander, defending lawsuits, and settlement bonds or judgments. For instance, this coverage would apply to someone suing your business for medical damage after walking into your store and slipping on a recently mopped floor. Professional liability is meant to protect your business against bad advice or guidance. If someone acts on your professional business opinion and it results in something harmful or negative, this insurance will protect your company from professional liability claims.
Why does it take longer to get a business insurance proposal than a personal insurance quote? We work hard to make sure that your proposal is delivered to you as quickly as possible, but there are a lot of considerations that have to be taken into account, including business type, location, and the number of employees. When an expert insurance broker is reviewing your information, it takes some time to compile all the relevant details and create your unique policy. This not only ensures that you get the best rate, but also that you have accurate coverage.
Still have questions? We can help. Give us a call today so we can start the process of helping you build your best policy and get the protection your business needs.
https://accurateprotection.com/wp-content/uploads/2018/12/Accurate-Protection.png
0
0
Accurate Protection
https://accurateprotection.com/wp-content/uploads/2018/12/Accurate-Protection.png
Accurate Protection
2020-01-08 23:50:46
2020-01-08 23:50:46
The most common business insurance questions, answered