Is your business OSHA compliant? All businesses are required to follow rules and regulations designed to maintain a safe and healthy workplace for employees. It's not only the right thing to do, it's the law. And even if you haven't had any on-site injuries or accidents, your business still could be subject to fines and/or penalties if you don't follow the OSHA regulations that apply to your business and industry.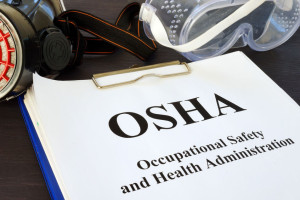 The Occupational Safety and Health Administration Act details specific responsibilities employers have regarding ensuring a safe and healthy workspace for their workers:
Providing a workplace free from recognized hazards and complying with standards, rules and regulations issued under the OSHA Act that apply to their enterprise.
Examining workplace conditions to make sure they conform to applicable OSHA standards.
Making sure employees have and use safe tools and equipment and that the equipment is properly maintained. Employees should be trained to use equipment/tools safely.
Using color codes, posters, labels and/or signs to warn employees of potential hazards and remind them of best safety practices.
Establishing or updating operating procedures and communicating them so that employees follow safety and health requirements.
Providing safety training in a language and vocabulary workers can understand. Reminding employees of what they've learned in training and providing periodic educational opportunities reinforcing safety.
Federal law provides employees the right to contact their local OSHA office and make a complaint or lodge a concern regarding their place of employment. Because of the importance of worker safety, OSHA takes workplace violations seriously, and Inspections that reveal non-compliance can result in fines/penalties for the business.
OSHA encourages all employers to adopt a workplace safety and health program, regardless of the type of business or industry. These types of risk management programs can substantially reduce the number and severity of workplace injuries, maintain worker safety and demonstrate a company's commitment to safety. Most successful safety and health programs are based on a common set of key elements. These include a leadership commitment to safety, worker participation, a written safety plan/program and an effective approach to finding and fixing hazards. Simply put, smart planning can protect your business and keep it compliant with OSHA rules/regulations.
Prevention and preparation are the keys to avoiding costly and dangerous accidents or workplace problems. At Accurate Protection, we deliver the strategies, tools and resources that you need to assist with OSHA standards and requirements. We can help you understand OSHA regulations that apply to you and your business/industry, prepare for an OSHA inspection, maintain good records and stay up-to-date on ever-changing rules and regulations. Learn more about all of the ways we can help your business manage its unique risks and thrive.
https://89hcd0.p3cdn1.secureserver.net/wp-content/uploads/2022/01/106964639_M-300x200-1.jpg?time=1693513817
200
300
Accurate Protection
https://89hcd0.p3cdn1.secureserver.net/wp-content/uploads/2018/12/Accurate-Protection.png
Accurate Protection
2021-11-25 12:29:25
2022-01-24 12:31:51
OSHA compliance and your business