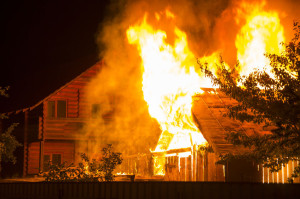 Wildfire season is here once again. And after last year's devastating fires in California and throughout the West, many experts worry that continued drought conditions will lead to another year of heightened risk and high levels of destruction.
Sites throughout California and other states monitored by fire officials, for example, are at or near record levels of dryness. Fuel moisture — the amount of water inside a living plant — "is the lowest that we've recorded at these sites since 2013," Craig Clements, director of the Wildfire Interdisciplinary Research Center at San Jose State University told NPR. "It's indicative of very dangerous conditions coming into this summer."
There's a risk of fire danger in all states. And fire officials say in addition, fire season started earlier this year — in May. The National Interagency Fire Center's National Significant Wildland Fire Potential Outlook points to warmer and drier than normal conditions throughout the West — conditions expected to persist through fall.
Are you prepared? Here's what you need to know to protect yourself, your home and your business:
Revisit your insurance coverage. Homeowner's and business insurance generally covers damage from fires, including wildfires, up to the policy's monetary limits, unless the policyholder intentionally sets their home on fire. Policies vary, but any outbuildings or unattached structures on your property may also be covered, up to certain limits.
Think about flood insurance. Fire-damaged areas are much more susceptible to flooding because of the lack of vegetation and fire-damaged soil. While fires are covered under homeowner's policies, flooding is not. You must purchase flood insurance for your home and business to be covered, and there's typically a 30-day waiting period for all flood policies.
Take defensive measures. Cleaning up dry material and creating fire breaks on your property can make a huge difference. Clear a natural firebreak between your home/business and surrounding trees, brush and uncut fields. Here's some information from the Federal Emergency Management Agency on how to protect yourself and your home, before, during and even after, a wildfire.
https://accurateprotection.com/wp-content/uploads/2021/07/s5_f1fa78b2ae1b85ea850a8b6e5a847f6b.jpg
565
848
Accurate Protection
https://accurateprotection.com/wp-content/uploads/2018/12/Accurate-Protection.png
Accurate Protection
2021-07-28 14:20:24
2021-07-28 14:20:25
Is your business prepared for wildfire season?