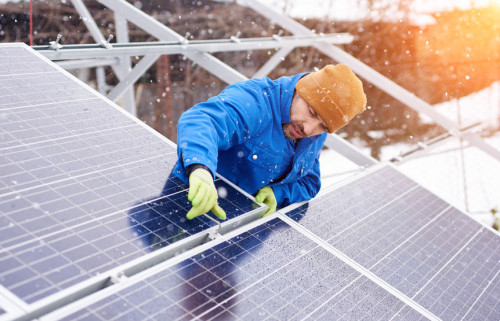 Winter always seems to be a busy season, which is odd considering how strong the urge can be to just hibernate through it and skip the whole thing. From a worker safety standpoint, we're not exactly crazy about the season, but the fact is, it rolls around each year like clockwork, bringing its own work-related challenges.
Like any other period of serious weather, winter brings about some unique safety challenges that demand our consideration. Just on its own, the winter chill is clearly a potential safety issue to those who work beyond a temperature-controlled environment. Cold stress can sneak up on an individual and sap their energy before they realize it's high time to warm up. Even if it doesn't progress to more serious exposure-related conditions, cold stress can sap productivity and present its own set of health hazards. When winter falls, work that can be done inside should be promptly moved indoors.
For those still exposed to low temperatures, it's important to be aware of the signs of cold stress and look for symptoms of the conditions it causes. Dressing for low temperatures goes a long way — layer your clothing to better regulate heat, and stay as dry as possible. To cut the risk of slips and falls, take care of snow and ice as quickly as you can after it falls.
To workers, one of the biggest risks of winter is right underfoot. Slips and falls are a major safety issue regardless of season, but the risk of falling on the job can be seriously compounded by winter ice and snow. The injuries caused by slipping on ice range in severity, as you'd expect. With that said, 2013 data pulled from five Midwestern states found slips and falls on snow and ice to be responsible for about one-third of all workers' compensation claims that resulted in lost time from work. Tackling the winter slip risk in a work setting is much the same as anywhere else — shovel away ice and snow as soon as possible, apply some de-icing agent when appropriate, and proceed with caution.
https://accurateprotection.com/wp-content/uploads/2018/12/Accurate-Protection.png
0
0
Accurate Protection
https://accurateprotection.com/wp-content/uploads/2018/12/Accurate-Protection.png
Accurate Protection
2019-12-11 18:15:25
2019-12-11 18:15:25
Workplace injuries don't slow down for winter