Every business idea is made of a complex series of decisions. Even the most prepared business leaders, however, face unknown factors that can create damage to their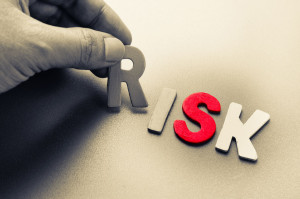 company. Risks – from property damage to business reputation to employee health – are all potential parts of business. Being able to handle whatever comes your way is just part of the deal.
What are the most common areas of risk to consider and plan for in your business?
Physical and building risks: Do you occupy an old building with an asbestos risk? Do you have fire extinguishers and evacuation maps posted? Ensuring the safety of your physical space is one of the most significant ways to prevent and address workspace risks.
Hazardous material risk: Certain businesses have more risks than others in this regard – chemical plants or auto shops, for instance, will have an increased risk, but even companies who have employees who simply come into contact with cleaning supplies need to be mindful.
Location risks: Is your office located in a place known for severe weather? If floods, earthquakes, blizzards, fires, tornadoes or hurricanes are a risk in your area, it's important to have a plan to protect your physical space and employees in an emergency.
Human risks: People are the foundation of any business, and they need to be protected. Slips, falls and other on the job accidents are important considerations – you not only need to make sure that there is maintenance to help prevent employee injury but also have the right insurance should accidents happen. Plus, businesses will need to consider the cost of lost employee productivity.
Technological risks: One thing all modern businesses need to be wary of is how they're using technology. Is your business using best practices to protect data and prevent fraud? What about training employees to avoid phishing emails? It's important to always consider technology misuse as a potential business risk.
Employment practices risk: Wrongful termination, negligent evaluation or refusal to employ or promote are some examples of events that can place a business at risk for employment practices litigation.
Commercial insurance helps you prepare for the unexpected and can help protect you against financial and legal risks should the worst happen. Responsible business leaders work to understand the potential risks they might face in their organization and know that the right insurance is crucial. If you need to talk to someone about getting the best insurance for your business, our team can ensure that you have the coverage that's right for you. Get in touch today.
https://accurateprotection.com/wp-content/uploads/2019/08/s5_3425a306f65c8fc06ef675f19c57a5db.jpg
565
848
Accurate Protection
https://accurateprotection.com/wp-content/uploads/2018/12/Accurate-Protection.png
Accurate Protection
2019-08-14 22:41:26
2019-08-14 22:41:26
Do you know the risks?